Little Growers would like to wish you a very merry Christmas and a wonderful start to the New Year. We have had a great year here at Little Growers, with our first market stall a huge success, our projects in the Maldives going from strength to strength and our Online Community being recognised as a truly innovative concept that has since been adapted by other organisations.
Grow Your Own both in and outside of schools continues to increase nationwide, with more and more people getting outdoors and cultivating their own produce. In all areas growing your own makes perfect sense, environmentally it is hugely beneficial from reducing air miles by people growing locally and not buying from supermarkets, to nurturing the land and promoting self sustainability. Socially it is proven that gardening is great for improving mental health and combating the blues, and in schools it promotes team work and confidence. Even financially it is a bonus, with everyone feeling the pinch, growing your own fruit and veg cuts shopping costs whilst eating the freshest, seasonal veg around. We couldn't be happier at Little Growers to see Grow Your Own blossoming around the UK, we are passionate about educating the future generations in the importance of horticulture, healthy eating and sustainability in and out of school, so a huge well done to everyone who is championing the same cause!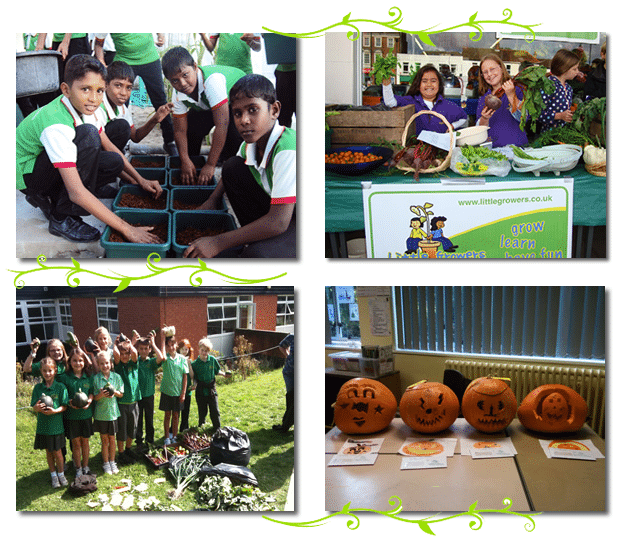 As you will have seen from our newsletters throughout the year, 2011 has been full of great projects for Little Growers. Our first local market was a triumph with the four schools involved raising over £300 in a morning and selling out of their produce completely! The Maldivian school projects continue to thrive, with local hotels exploring the possibility of working in partnership with the schools for them to supply their produce to the hotel restaurants. The pumpkin competition at Connaught Juniors was also a real highlight for everyone involved, with the children entering their designs for a pumpkin and the winners carving their pumpkins and taking them home for a spooky Halloween treat!
Little Growers was featured in Urban Times last week in their new initiative called Startup Lab. The Startup Lab is a 15-part weekly series dedicated to spotlighting startup companies that highlight the growing interface between strong entrepreneurship and social and environmental sustainability. We were really pleased and proud to be asked to be part of the Startup initiative and equally pleased with the brilliant results! Please do take a look at the Little Growers feature by clicking here
We are looking forward to 2012 and working with new schools as well as developing our current projects, we will be holding more market stalls and working with the local community to truly embed the schools projects within the community. We wish you a Happy Christmas and brilliant New Year, we are hopeful 2012 will be our greenest year yet!