Fruity Homemade Ice Lols! Ingredients• 1 cup of yogurt of a flavour of your choice, we like vanilla!
• 1 banana
• 3 cups fresh or frozen summer fruits, raspberries are lovely
• A drizzle of honey
• Craft sticks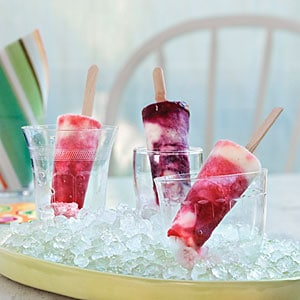 Preparation:
1. Process yogurt and banana in a blender 30 seconds or until smooth. Bring raspberries and honey to a boil in a medium saucepan over medium-high heat; reduce heat to low, and simmer 5 minutes. Pour mixture through a fine wire-mesh strainer into a bowl, using back of spoon to squeeze out juice and pulp. Discard skins and seeds. Cover and chill raspberry mixture 30 minutes. Pour yogurt mixture evenly into 10 (2-oz.) ice lolly moulds. Top with raspberry mixture, and swirl, if desired. Top with lid of lolly mould, and insert craft sticks, leaving 1 1/2 to 2 inches sticking out of pop. Freeze 6 hours or until sticks are solidly anchored and pops are completely frozen.
2. Tip: For a different taste, substitute 3 cups fresh or frozen blueberries or halved strawberries.

Southwestern Black Bean Salad (originally found here)
This salad is great for numerous reasons: the ingredients are incredibly cheap, it's healthy and easy to make. It can be teamed up with pita bread; the longer you leave it marinating the more flavourful it becomes so it's improved by a night in the fridge. It also tastes good with chopped orange bell pepper or quinoa.
• 1 can black beans, rinsed and drained
• 9 oz frozen (or canned) corn, thawed
• 1 tomato, chopped
• 1 avocado, chopped
• 1/4 cup red or white onion, diced
• 1 spring onion, chopped
• 1 lime, juice of
• 3 tbsp extra virgin olive oil
• 1 tbsp coriander, chopped
• salt and fresh ground pepper
• Mexican chilli powder, a few pinches
Combine beans, corn, tomato, onion, spring onion, coriander, chilli powder, salt and pepper. Mix with lime juice and olive oil. Marinate in the fridge 30 minutes. Add avocado before serving.